Custom Leather Guitar Straps
Nothing shouts, "Custom" like your name branded right there on your very own custom leather guitar strap. Dangerous Threads have been doing this for over twenty years, so they know what they're doing.
Located in Nashville Tennessee, Dangerous Threads have been busy catering to the the music industy and the general public with beautifully hand crafted custom leather guitar straps for more than two decades.
This company stands by their reputation, so much so that they ganantee customer satisfaction or your money back.
Features:
You can submit up to 10 letters for your name. They can do more letters, but they'll be smaller at ¾ inches instead of the standard 1inch".
You can choose symbols like Musical Notes, Stars, Crosses,  and others as shown in the photo.
The interior of their straps have a layer of special foam padding which makes their custom leather guitar straps extra comfortable.
The width of these straps are 2 inches at the top, gently widening to 3 inches at the bottom.
When it comes to quality, Dangerous Threads  excepts no cheap imported leathers or other materials.
These beautiful custom guitar straps are cut from the finest grade leathers and are adjustable to fit everyone, ranging from 43″ at the shortest setting to 54″ at the longest setting. Owners, Bob and Debbie Kitchener will even do special lengths by request.
Many bands and solo artists have used Dangerous Threads  guitar straps. One of their most famous customers is none other than the rock & roll hall of famers, Aerosmith.
Dangerous Threads  custom leather guitar straps are shipped the world over. So no matter where you are, you can get a hold of one of these awesome custom guitar straps.
Bob and Debbie are always hard at work creating these high quality, fashionable guitar straps. Comfortable, original, and the perfect gift. So when you're craving a little excitement, take the opportunity to live dangerously with a custom leather guitar strap from Dangerous Threads.
Another fine company that makes custom leather guitar straps is Gretsch by Fender.
The Gretsch 6334 guitar strap is an authentic reproduction of the original tooled Gretsch vintage strap. This particular guitar strap comes with die-cut Western motif including longhorns and cacti. It has fully adjustable jeweled buckles and trim to complete the vintage look. This Gretsch guitar strap is very comfortable, is beautifully embossed, and should last a lifetime. Also available in Brown or Tan.
Gretsch 6334 Die-cut tooled, vintage styled, black leather guitar strap.
Western motif with jeweled buckles and trim.
With a 49″-56″ length, it's perfect for "big body" guitars.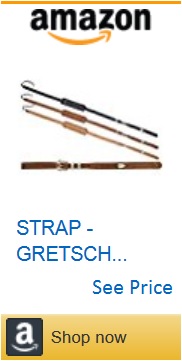 Yet another fine Gretsch Vintage Guitar Strap, this time in a walnut finish.
This Strapdeluxe-vintage walnut Electric Guitar Strap's dimensions are 1.9 x 11.4 x 2.8 inches.