Just as comfortable as your favorite pair of jeans, and made to last. A Denim Guitar Strap will feel so good against your skin that you'll never want to take it off. Top quality, and great value for your buck.
This awesome Denim Guitar Strap by Levy's Leathers is super cool, with its two-and-a-half inch width for extra comfort, printed chopper design complete with kick-ass skulls, it's sure to have heads turning your way. Did I forget to mention that it also has top-quality denim backing, and leather ends? Well, it does. Oh yeah! Now you're cookin' with gasoline.
This two inch wide, lovingly hand-crafted, Denim Guitar Strap with a beautiful blue floral design by Jodi Head is a must have.  Each strap is a work of art. So if you've been looking for something a little different, this is it. This strap has just the right blend of denim and eye-catching design work to set you apart from the crowd.
Here we have a Denim Guitar Strap of pure style. The beautiful orange with brown floral design is sure to get a lot of admiring looks. It's super comfortable denim is soft against your skin while you make beautiful guitar music. This 2-inch wide guitar strap by Jodi Head is selling fast, so don't miss out.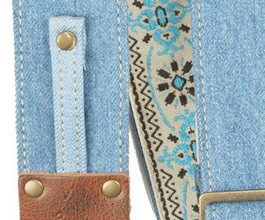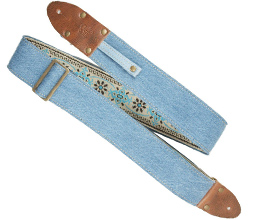 This retro, vintage Denim Guitar Strap is put together with premium denim on the top, and has a cotton jacquard pattern on the back. It's truly an American classic. With its antique brass hardware it won't last long. So buy it now to make it stay "Made in the USA".
This Denim Guitar Strap by Pete Schmidt is handcrafted in South America from the highest quality materials. It is designed for ultimate functionality and comfort. This stylish, durable strap has cotton backing, and is adjustable from 44 to 57 inches.
Another wonderfully well made Denim Guitar Strap by Pete Schmidt. This cool guitar strap has a 100% Garment Leather backing and is also adjustable from 44-57 inches.

This cool Denim Guitar Strap by Martin is made from soft sustainable cotton denim. The strap is printed with Eco-friendly ink, is lightweight, and comfortable. An awesome guitar strap for any collection.
Vintage denim on the front, cotton jacquard pattern on the back. This is a great looking Denim Guitar Strap. Classic antique brass hardware, and made in the good old U.S of A by LM Products.
Another cool Denim Guitar Strap by LM Products. This one has soft cotton webbing backing, is two-inches wide, with double layered leather end tabs. It is adjustable up to 60 inches.
This lightweight Denim Guitar Strap, featuring embroidered leather ends, is also very durable with its reinforced backing of polypropylene webbing. The strap length measures 41-73 inches in total. At 2 inches wide, it's very comfortable. The gold Ernie Ball logo, premium leather ends, and high-quality stitching make this strap a must have.
Another totally awesome Denim Guitar Strap by LM Products. Made with premium denim on the top, cotton jacquard pattern on the back – a touch of retro flash to an American classic. With top of the line craftsmanship, it's sure to be one of your favorites.
Like wearing those classic jeans that you love, this Denim Guitar Strap by East Majik will also make you feel not too heavy, not too light, but just right. Great for both Acoustic Guitar, and Bass, this strap rests comfortably on your shoulder, supporting the guitar in the perfect playing position.  With an approximate length of 160 cm/63 inches, and a width of 5 cm/2 inches you can't go wrong with this quality strap.
Hey there, smiley. This 2″ wide Denim Guitar Strap has leather ends, an adorable sewn on rainbow smiley face embroidered patch to brighten up your day, and is fully adjustable from 39-58 inches long. Made In Canada, by the good people at Perris Leathers, eh!
Clear the room, highly explosive material coming through. Another 2-inch wide Denim Guitar Strap by Perris Leathers, complete with leather end pieces, and a mind blowing sewn-on radio active patch. You'll be da bomb sporting this strap.
Next in the Perris Leathers range, we have a super-cool Denim Guitar Strap of the hemp variety. Again with quality leather ends, two inches in width, and let's not forget the awesome rainbow hemp leaf patch. The sky's the limit with this guitar strap. That's a freaky word, limit, LIM-IT, LIMMMM-IT.
It's time to go to La La Land with this mind-altering shroom Denim Guitar Strap. This one has the same high quality as all of the Perris Leathers guitar straps, and is fully adjustable from 39-58 inches in length, 2 inches wide, and has a great shroomy goodness compliments of it's rainbow mushroom embroidered patch.
Take a moment to reflect as you meditate on this cool Denim Guitar Strap, yet again by Perris Leathers. A two-inch wide strap with leather ends and a sewn-on Ying Yang patch. Peace man!
A 2-inch wide Denim Guitar Strap with leather end pieces, a sewn-on USA flag patch. Made in Canada … ah, the irony.