Add a little
wisdom

,

magic, and power to your playing with a Dragon Guitar Strap.

These durable, high quality straps are made to last. Nothing says confidence like a Dragon.

Branded with an awesome red dragon using a unique foil stamping process, making the design reflective under light, this Dragon Guitar Strap is a great find. It's 2-1/2 inches wide, accommodates tall guitar players – being adjustable from 44.5 to 53 inches. Made with deluxe premium-quality single ply leather this guitar strap by Planet Waves is very durable. The backing of the strap is rough so your guitar won't slip or slide around as you play.

This 2.5 inch wide leather Dragon Guitar Strap by Leathercraft has a beautiful finish with a great natural look. It is both strong and durable to last those crazy, wild touring sections.

A two inch wide roller buckle Dragon Guitar Strap by Jodi Head with three buckles, binding, and leather lining. The black dragon brocade fabric gives it a unique look. Fully adjustable and waiting for you to take it home.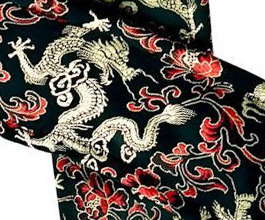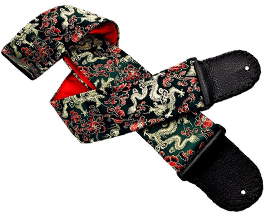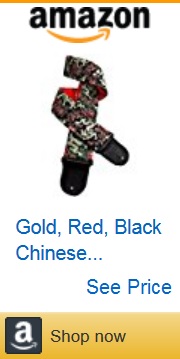 This kick-ass Dragon Guitar Strap by Coolstraps, of the Chinese version, is handmade by craftsman with years of experience, so you know it's good. The design is exquisite, it's very comfortable and soft against your skin, a pleasure to wear.
This beautifully handmade guitar strap is a product of New York City, made by the one and only, Jodi Head. It's stunning blue dragon brocade fabric makes it a must have.
This fantastic Dragon Guitar Strap by Tiny Products comes with a traditional Japanese design, made of Brocade fabric from Kyoto. It's length is 33.5″(850mm) to 57.8″(1,470mm) and a width of 2″(50mm). A strap like this, with its Wagara Dragon & Flame design would make a unique addition to your guitar strap collection. An excellently handcrafted, fine detailed, high quality strap. This product can only be purchased online.

This intricately stitched, bright fabric Dragon Guitar Strap by Jodi Head has top quality leather lining and leather ends. Edges feature rugged stitching. A very comfortable strap due to its 2-1/4″ width. This strap is highly desired.
Yet another totally awesome fabric Dragon Guitar Strap of intricate beauty. Stitched dragon designs adorn this Jodi Head guitar strap with leather lining and ends. Comfortable, 2-1/4″ wide and ready to breathe fire into your guitar playing.
This super cool Dragon Guitar Strap by Buckle-Down is hand-crafted in America with durable materials of the highest-quality. Top of the line printing methods means this premium guitar strap will really pop on stage.