Does your old guitar strap need to be re-fur-bished?
Or maybe you should just throw it out and get an awesome faux Fur Guitar Strap like one of these beauties. Feel that comfortable warm fur caressing your skin as you as play.
If you miss your dog while performing on stage, why not get this Chinchilla Faux Fur Guitar Strap. But seriously, it's a really cool looking strap. A luxurious three inch wide strap, handmade in Santa Cruz, California USA with high class designer fabric, and is adjustable to over 70 inches. It also features all metal hardware. Get ready to compliment your guitar in a big way with this rad guitar strap by Dog Days Designs.
Another awesome fur guitar strap by Dog Days Designs, this time in purple bird faux fur. A fully adjustable strap with metal hardware. It's 3-inch width makes it super comfortable, and it's surrounded on all sides by purple velvet designer fabric. It even comes with some freebies. So swoop down and get your bird fur guitar strap today.
Wolf Faux Fur, 3-inch wide Guitar Strap by Dog Days Designs. This strap is handmade in California using world class fabric, and is adjustable to over 70 inches. It has metal hardware, is soft, and very comfortable. A vintage-style guitar strap featuring black velvet croc designer fabric. You'll be howling on stage with this one.

This Neon Green Fur Guitar Strap is very eye-catching, and deeply comfortable thanks to its three inches in width. It features a super soft, furry, and luxurious designer faux fur, black light responsive, neon green fabric surrounded on all sides by black velvet croc designer fabric by Dog Days Designs. Make your guitar playing glow with this super-funky guitar strap.

Get your ferocious Yeti on with the faux-fur guitar strap. It's so soft, and so comfortable. It features luxurious designer faux fur shag fabric, 3-inch width, and white velvet by Dog Days Designs. So if you've been searching for that abominable snowman look, your search is over.
A handmade deluxe leopard faux Fur Guitar Strap featuring super comfort, thick designer fabric, metal hardware, durability, die cut leather end-tabs, and a strong polypropylene interior. Both sides of the strap has been covered with upholstery fabric, minimizing rough edges and providing musicians the best quality available by Dog Days Designs.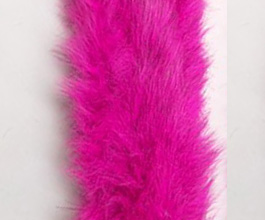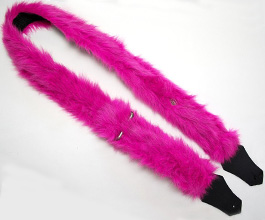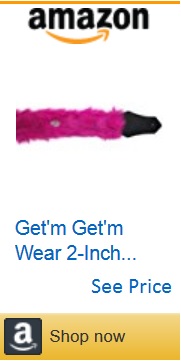 Top quality fabrics and craftsmanship, genuine leather tips, quality metal hardware. All of this and much more like funky, furry, pinky goodness, comfort and style by Get'm Get'm Wear.
This 2-inch wide black faux Fur Guitar Strap by Get'm Get'm Wear is made with high quality frabrics, has genuine leather tips, and quality metal hardware. This well behaved, furry fellow is looking for a good home, why not make it yours.

Red synthetic Fur Guitar Strap with top quality leather ends. Not much more to say really, as Levy's Leathers reputation speaks for itself.