Get ya Girl Power on, with a cool Girls Guitar Strap. Rock on.
This crazy colorful handmade girls guitar strap has the front fabric in a slinky rayon weave, and cool neon green and pink leopard print along with copper, black, and white accents. The back lining is in shocking pink – a thick, lush Duchess satin and the pin tabs are double thick hand punched and hand stitched top quality black Brazilian leather. Remarkable comfortable, due to the 3 inch width allowing for weight distribution over 50% more area than conventional guitar straps. Furthermore, the 3 bottom layers of fabric act as a cushion to further distribute the weight of your guitar without holding body heat that standard lamb's wool straps retain, so this strap is soft, cool, and comfortable. No more aching neck or shoulder with this bad girl of a strap.
This beautiful girls guitar strap is called the Country Girl Morning Glory. It is a stunning, handmade guitar strap that has almost glowing morning glory flowers on it, against a black backdrop. The front fabric is thick, soft 100 percent cotton. The print has exquisite shades of blue and aqua. Intricately detailed leaves and tendrils in shades of green that range from moss green to fern green are also evident. All the imagery is outlined in sparkling fine lines of gilt gold against a black backdrop that adds a certain lavishness to the overall impression of this girls guitar strap. The back lining is glossy twilight blue Duchess satin. The pin tabs are double thick and hand punched and stitched top quality black leather.
Live Line have been making quality products since 1979, this Panda girls guitar strap is no exception. It's leathers are carefully hand crafted by skilled craftsmen using high quality cowhide exclusively. They are one of the leading guitar and bass accessory brands. Many top artists are using them on stages and in studios. They are reliable, durable, and high quality products. It is a woven strap with leather ends, polypropylene lining, Banzai Panda design, comfortable, high quality two inch width, and fully length adjustable.
This 2 inch, or 50mm wide Monochrome Hearts girls guitar strap is a beautifully woven strap with leather ends, and polypropylene lining. It has black & white heart designs, and is suitable for standard style electric, acoustic, or bass guitars. It is a very comfortable, high quality guitar strap with vintage finished durable metal parts.
Another quality Live Line girls guitar strap is this two inch wide woven strap with playing card design. This guitar strap, with its high quality leather ends, comfortably wide size, and a length adjustable between 79 – 140cm, as well as its stylish appearance – it's the perfect choice.
This girls guitar strap is the Angry Girl by Buckle Down. It has a cool pink skull and cross-bone design, not forgetting the beautiful pink bow, cause it's okay to be angry, but one should always look cute at the same time, it's a given, lol. So rock out with this fashionable, fully adjustable guitar strap, which also features thick leather ends, two inch wide polyester webbing, and a brand that's officially licensed and made in the good old USA.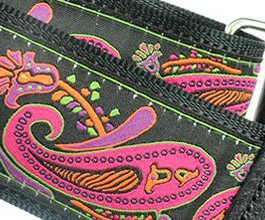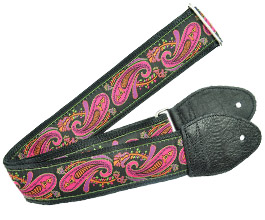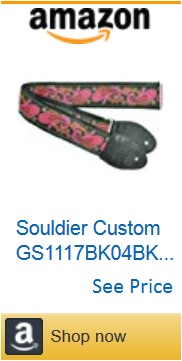 This awesome paisley girls guitar strap is by Souldier. They produce handmade custom guitar straps out of Chicago, like this beautiful Magenta/Purple/Black girls guitar strap, which is actually made from a recycled seat-belt, original vintage materials, and salvaged leather and vinyl. Souldier's excellent team of craftspeople create strong, luxurious and Eco-friendly guitar straps. Souldier even offers a lifetime warranty on the strap ends. Souldier guitar straps are your 'go-to' for a high-quality performance strap.
This (you may say adorable) love heart girls guitar strap is two inches wide, woven, with high quality leather ends, and it's very popular with Japanese girls. It must be the weathered, rag-doll patch like hearts on the baby blue background that makes them so irresistible, who knows. Girls want what they want, and this is a hot item that they can't get enough of.
This ultra-cute two inch or 50mm wide, woven Girls Guitar Strap with high quality cowhide leather ends, along with its charming bunny rabbit design is both super comfortable and of the highest quality. And wait, there's more, lol. It has vintage finished durable metal parts – nice.
This beautiful Cherry Blossom Girls Guitar Strap comes with a durable woven strap, high quality cowhide leather ends, is 2 inches wide, and suitable for all Electric and Acoustic Guitars and basses. This girls guitar strap has a polypropylene lining, and an awesome Japanese Cherry Blossoms design. It's comfortable and fully adjustable between 79 – 140cm.
This trendy girls guitar strap features Petite Birds on a black background. It is 2 inches wide, woven, with top quality cowhide leather ends, has polypropylene lining, and is both super colorful and comfortable, and did I mention super cute.
This cool red and pink roses, hearts, and butterflies girls guitar strap is sure to keep you jamming all night long. An adjustable guitar strap which features thick leather ends and 2 inch wide polyester webbing, easily adjusts from 29 to 60 inches. It is officially licensed and made in the USA. Rock On!!!