For all you animal lovers out there, why not get a Leopard-print Guitar Strap. Don't worry – they're faux fur / faux leather.
This Leopard-print Guitar Strap is fully adjustable from 45 – 60 inches. It has premium nylon webbing, with velvet lined shoulder padding. The leather ends are attached to shiny nickel finish hardware, and all made in the USA. Capturing Couture guitar straps are meticulously constructed with the finest materials. They are great looking, available in many styles, and crafted to be the ultimate in comfort and quality. This 2-inch wide strap is the perfect gift to yourself, or any musician in your life.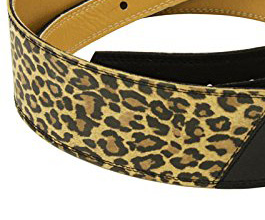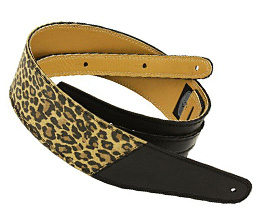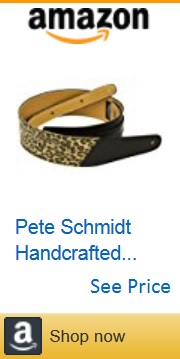 This cool Leopard-print Guitar Strap is handcrafted, has three layers of the finest leather, is double stitched for added durability, adjustable from 40 to 54 inches, and comes in short, long, and extra long. Pete Schmidt guitar straps are made by highly skilled leather artisans in South America. Exceptional quality, look, feel, durability, and comfort.
As well as being made from top quality fabrics, this Leopard-print Guitar Strap also has genuine leather tips, and quality metal hardware. These straps are some of the longest on the market, and are hand made in the USA.

High level craftsmanship, fine leather ends, superior metal hardware, and hand made in the USA – what more could you ask for. These Leopard-print Guitar Straps really rock. Get one today, before they're all gone.
Yngwie J. Malmsteen has used DiMarzio ClipLock guitar straps since the early eighties. Two inch width (5 cm), adjusts from 32 to 56 inches (81 – 145 cm). This beautiful Leopard-print Guitar Strap has a nylon base and acrylic/polyester microfiber faux fur, and high quality leather ends. This strap adds new levels of comfort to your playing. DiMarzio ClipLock quick release guitar straps were the first to feature the heavy-duty plastic clip allowing you to easily change from guitar to guitar with a minimal amount of pressure. It's the most secure fastening method available to safeguard your guitar.
Levy's glam series Leopard-print Guitar Strap is an XL 2.5 inches wide, faux fur, complete with suede backing guitar strap. Adjustable from 49 to 62 inches. Very nice, to say the least.

If you need a two-inch faux fur Leopard-print Guitar Strap, then this one's for you. It features polypropylene webbed backing, leather ends, tri-glide adjustment, and is fully adjustable to 54″. This strap has a really cool looking Snow Leopard pattern.
A stylish animal print strap. Very comfortable, fully adjustable, 2.5″ wide, with suede backing. This Leopard Print Guitar Strap is made In Canada. Get one today, eh!

This 2-Inch faux fur Leopard Print Guitar Strap with polypropylene webbing backing, suede leather ends, pyramid studs and tri-glide adjustment is totally Rock'n'Roll – I think it's the studs that does it. Available in Siberian tiger, lynx, tiger and snow leopard. Adjustable to 54-Inches. Also available in extra long, which adds 12 Inches to the overall length.
Suitable for all electric, acoustic and bass guitars, this Leopard-print Guitar Strap is fully adjustable, max width: 7.2cm, max thickness: 5 mm, length: 126cm. Part of the fantastic Gaucho Range, these straps are essential kit for guitarists. These good-looking faux leather guitar straps from the Gaucho Wildlife Series also have a faux leather lining.