Get your hands on a high quality Paisley Guitar Strap before it's too late. These straps, with their intricate designs, superior craftsmanship and durability are exquisite to say the least.
This three-inch-wide carving leather Paisley Guitar Strap by Levy's Leathers has been beautifully tooled, and has foam padding, along with garment leather backing. It is fully adjustable between 36 to 50 inches. A very attractive strap.
From one of the leading guitar strap makers in the world, this Paisley Guitar Strap by Levy's Leathers is a premium strap of the highest quality. Durability, style, and comfort are all present here in this example of fine workmanship. This intricately tooled strap is very visually appealing and a must have for your collection.
This awesome, handmade, leather, Paisley Guitar Strap by American Made Upgrades, with hand tooled carving is adjustable from 39″ – 52″. It's made using traditional old world techniques, so you know it's built to last: Thick cowhide, sealed in resolene and beeswax. A strap capable of lasting multiple generations of players is a unique thing these days. Extremely high quality, made in Oregon USA.

A 2.5-inch wide vinyl Paisley Guitar Strap by Planet Waves, with cut-out windows on deluxe leather, and color matched stitching is adjustable from 44.5 to 53 inches. This strap looks amazing, and feels just as good. The D'Addario Deluxe Series sets the standard for leather straps, it exudes class, style, fashion, and function. The strap is 4 inches longer than standard straps, giving you maximum adjust-ability.

This 2.5-inch wide, colored vinyl top with cut-out windows on deluxe leather, color contrasted stitching, adjustable from 44.5″ to 53″, with leather backing is one of the eye catching Paisley Guitar Straps in the Deluxe Series brought to you by Planet Waves.
Three inch wide suede leather guitar strap with tooled paisley pattern. A suede backing, adjustable from 36 to 50 inches. Also available in extra long (XL), which adds 12 inches to overall length. Another quality strap by Levy's Leathers.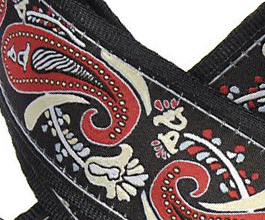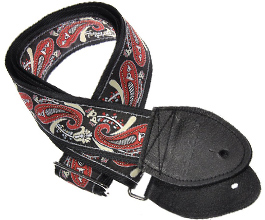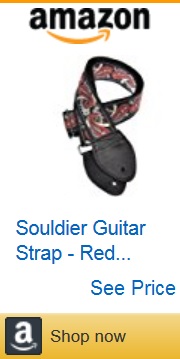 An Eco-friendly strap from Souldier. Hand-made in Chicago USA from recycled auto seat-belts and salvaged leather. This Paisley Guitar Strap has been made in an environmentally responsible way. It's a really cool looking strap. It features a vintage fabric pattern on the top of a 2 inch wide seat-belt underneath, and end tabs made with 2-ply leather. Measures a full 60 inches. These high-quality, durable straps will instantly compliment your guitar.
Handmade in Chicago, IL USA, original vintage patterns, recycled seat-belt silver hardware, adjustable from 30 to 60 inches, and 2 inches wide double thick hand cut leather ends.

This Paisley Guitar Strap is made from recycled materials by the good people at Souldier. It is adjustable from 30 to 60 inches, and is 2 inches wide, with double-thick hand cut leather ends.

This environmentally-friendly Paisley Guitar Strap made from recycled seat-belts is a big seller for the Souldier guitar strap company which is an independent design manufacturer, fusing aesthetic textile creation with functionality. A very visually stunning strap.