Snakeskin Guitar Strap No. 1
Perri's Leathers is a family business. Lou Perri, original owner, artist, and musician, along with his innovative son, Anthony Perri, have been designing and crafting beautiful guitar straps for many years.
Lou, a musician and music teacher, acquired the business in 1988 and passed it on to his son, Anthony. It was in 1998 that Anthony revamped the business into the cutting edge company it is today – Perri's Leathers. Starting with only a handful of customers and fifty guitar strap designs, it now has connections to almost a thousand retailers and tens of thousands of musicians across the globe. Those 50 designs have also grown to over 700 original designs. Anthony, is the initial designer of the wicked Full Air Brushed strap.
As this page is dedicated to snakeskin, why not try a snakeskin guitar strap today from Perri's Leathers, with superior craftsmanship and terrific prices you can't go wrong.
Snakeskin Guitar Strap No. 2
Here are some beautiful snakeskin guitar straps, this time by Levy Leathers.
We've received quite a few emails from people saying how much they love Levy's Leathers Guitar Straps, and because you guys are important to us, yes that's right, every last one of you, here's a whole bunch of Levy's Snakeskin Guitar Straps, enjoy!
Levy's Leathers PC71ES-GRN "Electric Snake" Leather Guitar Strap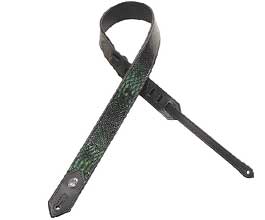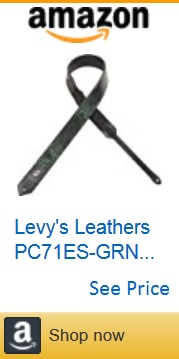 Levy's Leathers PC71ES-TAN "Electric Snake" Leather Guitar Strap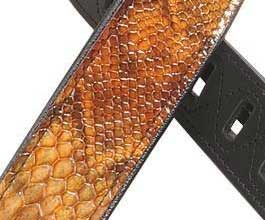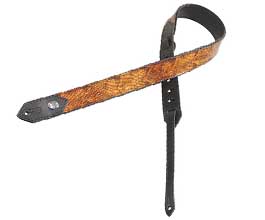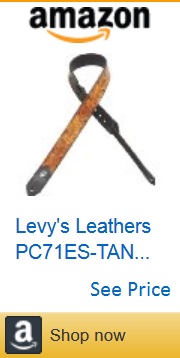 Snakeskin Guitar Strap No. 3
Terri Hearne, of Cool Straps began making custom hand made guitar straps in 1998 when her then-14-year-old son asked her to decorate his first Ernie Ball strap. Now she makes straps for guitaists of all musical styles and artistic tastes.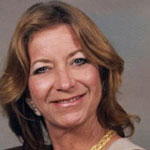 Terri's learnt from musos that wider straps are more comfortable and a slick fabric liner lets the guitar move without bunching up shirts. All of her straps are 3 inches wide and lined on the back with satin or other non-stick type fabrics. The length of her handmade custom guitar straps accommodate all body configurations and can adjust to 6 feet in length.
Check out this awesome snakeskin guitar strap by Terri, of Cool Straps.

She swears that she never uses a sewing machine, which we believe due to the superb quality,  and all the stitching and assembly is also done by hand, right down to the leather button tabs. Only top quality leather  is used for the tabs, usually suede. They are assembled using professional strength tanner's glue and heavy waxed thread designed specifically for sewing leather. There is nothing more important to Terri than providing straps that are unique, durable, and affordable.
She's created straps for big names, just-starting-out bands, and everyone in between.
Snakeskin Guitar Strap No. 4
When Ernie Ball opened his small music store in 1958, he only sold guitars. Over the next four decades, he transformed that business into a $40 million corporation with a worldwide reputation for excellence.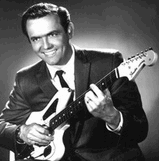 In 1962, customers began to complain about playing on tough, inflexible strings. So Ball created "Slinkys," lighter-gauge strings that better suited rock 'n' roll instruments.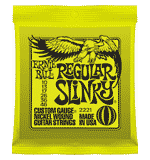 It wasn't until the 1980s that Ball decided to diversify his wares and offer other instruments and accessories. His brand name items are now sold in more than 5,000 U.S. music stores and exported to more than 70 countries.
One of those accessories is the, Ernie Ball Snakeskin Strap in brown leather with gold Ernie Ball logo, and a weave-through tail for perfect height adjustment to suit your playing style. This strap is great looking, extremely comfortable, and fully adjustable. Nice!
Snakeskin Guitar Strap No. 5
Jodi Head Custom Guitar Straps are worn by some of the most revered rock n' roll legends ever. Les Paul, Keith Richards, Buddy Guy, Dimebag Darrell, and BB King to name just a few.
Jodi Head's straps have even made their way into the movies. The hit movie "School of Rock" features Jodi Head straps.
Jodi Head guitar straps are all handmade in New York City's East Village, using high-quality materials and experienced craftsmanship, making them some of the finest and most unique guitar straps around.
With a Jodi Head guitar strap you'll be playing in comfort and style.
This custom snakeskin guitar strap is made in the USA, is 2.5 inches wide, fully adjustable, has nickel conchos and supple leather, with genuine snakeskin. It's very popular and is sold all over the world, so don't miss out, get yours today.
Or