Every Guitar Player is different. So why not celebrate it with a Unique Guitar Strap. Check out this hand-picked selection of top notch, unique  guitar straps. These eye-catching Guitar Straps are a must have for any serious Guitarist.
This Old Glory unique guitar strap by Ethos Custom Brands is part of their Flag Series of premium guitar straps. It wasn't hard choosing the flagship strap in this series, pardon the pun. This Guitar Strap pays homage to the USA. The history and legend of this flag inspired designer Chad Little as he chose the layout of the famous stars and stripes. Ethos' trademark method of "Inlay-onlay" technique highlight the rugged, matte finished red, white and blue leathers. The comfort-crafted padding is backed with a glove-soft, cream-cow lining for maximum player comfort. Due to this beautiful Guitar Strap's uniqueness, yours may vary slightly from the photo, but be assured that it is top quality and made in the USA.
This Unique Guitar Strap by Levy's Leathers is 2.5 inches wide, suede leather with American Indian leather appliqué and embroidery design. It has an adjustable length from 41 to 54 inches. This Native American Indian designed Guitar Strap with its fringes, suede backing, and overall charm is an outstanding strap, well worth the investment.
This Wooden Revo Style Unique Guitar Strap has an evenly distributed load using small wood pieces which still maintains maximum comfort. This strap is built to last a lifetime, using durable hardwoods which are scratch resistant. It also features premium quality black leather ends, and adjusts from 43 to 55 inches. Heavy-duty 200-pound Teflon-treated braided cord provides superior strength. At a width of approximately 2.5 inches, this natural wood strap's five wood species make every Revo one-of-a-kind. This classic guitar strap design is characterized by 2.5-inch wide wood sections, each composed of individual pieces are impeccably polished for a smooth touch and elegant look. This Guitar Strap offers a unique playing experience.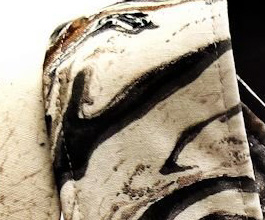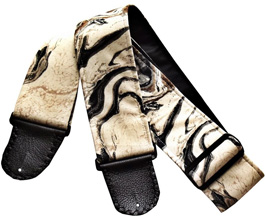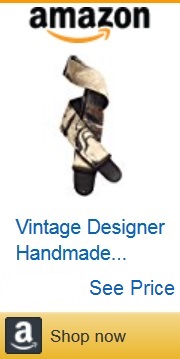 Check out this awesome, Designer Handmade, Unique Guitar Strap with swirling brown  and cream Bloomfield designs. This three inch wide, superior comfort, extra long – approx. 70 Inches, double thick hand punched and stitched strap is high quality, and waiting for you to take it home. The leather pin tabs are cut to fit a standard 12 mm strap pin. It's vintage Bloomfield Designer House heavy cotton swirl pattern with black duchess satin back lining makes this guitar strap both unique and highly sort after. Bloomfield Design House, already a well known haute couture fashion center presents this beautiful guitar strap inspired by the 1960's Bloomfield commissioned series of limited edition designs in this fabric. The swirling, psychedelic fluid patterns in cream, black, gray, rust, and brown make this Guitar Strap simply stunning.
A truly Unique Guitar Strap would be an understatement. This hunter green and orange, Artisan handmade, imported Indonesian, tie dye, batik cotton with spatter pattern strap is three inches wide for superior comfort. It has Duchess Satin back lining, double thick hand stitched leather tabs, and its exotic color patterns are like nothing you've ever seen. The front fabric beautifully combines mottled shades of green with spattered shades of orange. These stone washed pastel greens with splashes of tangerine orange intersect with soft sherbet orange in random, visually fascinating designs. This guitar strap will truly set you apart from the crowd. It is remarkably comfortable with a weight distribution of over 50% more area than conventional guitar straps. The three bottom layers of fabric between your shoulder and the polypropylene foundation softly cushion to further distribute the weight of your guitar without holding the body heat that standard lamb's wool shoulder pads retain. This means your strap stays soft, cool, and comfortable. No more aching neck or shoulder, and no more negative impact on pressure points. Nice.
A beautifully Unique Guitar Strap of the Navajo American Indian type. This Cream 2 inch strap by Capturing Couture is adjustable from 45 – 60 inches. It's made from premium nylon webbing, with velvet lined shoulder padding, and it has leather ends with a nickel finish, made in the USA. Great looking, meticulously constructed with the finest materials, crafted to be the ultimate in comfort and quality.

Yellow floral swirls sweep across dappled teal on this splashy, colorful handmade guitar strap. The front fabric of the guitar strap is thick 100 per cent mercerized cotton that has been batiked with stylized yellow blossoms, stems, and leaves on a marbled dark teal backdrop with tiny yellow dots punctuating the open areas within the curling vines. Random splashes of mango orange add a zesty, almost sweet citrus feel to the pattern, creating a sense of sunny warmth. The back lining of the guitar strap is thick, luscious teal Duchess satin with a subtle gloss, and the pin tabs are double thick hand punched and stitched top quality black leather.
A beautiful artisan handmade and highly unique guitar strap that captures the edgy and ornate Art Deco era. The front fabric of the guitar strap is thick, lush cotton printed with a striking seashell leaf motif with the strong, simple lines of the art style so popular in the 1920's and 1930's. The design is a highly stylized repeating image of soft edged triangular shapes that incorporate both seashell and leaf influences running vertically up the face of the guitar strap. The colors are variegated sherbet to tangerine orange, cream, and dark antique gold outlined in glittering gilt gold on a smooth taupe backdrop. The back lining of the guitar strap is glossy tangerine orange Duchess satin. The tabs are double thick hand stitched top quality black Brazilian latigo leather. This is an amazing guitar strap that will put you front and center no matter where you stand onstage.
This Unique Guitar Strap by LM Products features a 1.75″ width, an Outlaw Biker designed strap with leather top, foam pad inside, and leather underside. Its striking appearance, complete with bike chain and iron cross detailing, make this Guitar Strap not only unique, but also very Metal.
This Unique Guitar Strap by Levy's Leathers is 2 1/2 inches wide, satin, which depicts a pin-up girl holding a knife with a skull balanced on it. This very unusual design is complemented by a garment leather backing, and leather ends. Adjustable from 41 inches to 55 inches. Also available in extra long (XL), which adds 12 inches to overall length.
This is a Vorson A4Z1009 premium leather Guitar Strap, featuring brown leather "X" lace design, black padded back, adjustable from 48″ to 55″. This is a very Unique Guitar Strap design. To track down a similar design of such high quality and affordability is a very hard thing to do, that's why it's here on the custom-guitar-straps.net website, where the hard work has been done for you. Enjoy!
This Unique Guitar Strap with its blue and purple tie-dye design, accompanied by pink flowers and Hummingbirds is a real eye-catcher. This 29-60 inch adjustable guitar strap features thick leather ends, and two-inch-wide polyester webbing. This unique guitar strap is made in the USA and brought to you by a company called, Buckle Down. A very elegant strap.