Everyone loves a good Zombie movie, but why stop there – get yourself a bloody awesome Zombie Guitar Strap before it's too late.
This scary 2.5-inch wide Leather Zombie Guitar Strap, complete with cool zombie design, is top of the line in comfort and durability. Fully adjustable and ready to accompany you on your guitar playing journey.
This 2 inch polyester zombie guitar strap comes with sublimation-printed zombie design, polyester ends, is tri-glide adjustable to 60 inches, and is super comfortable and ready to rock.
This Walking Dead Zombie Guitar Strap has striking graphics on high quality genuine leather, it adjusts from 44″ to 50″ in length with a width of 2.5 inches. If you want your guitar strap to be scarier than some of your fans, this is the strap for you.

This stunning Cliff Zombie Guitar Strap has graphics from The Walking Dead TV series on high quality genuine leather. It is an extremely detailed collectible art design on a comfortable polyester strap. Not forgetting the legendary reliability of the Peavey company.
This cool Zombie Guitar Strap by Levy's Leathers comes with unique custom touches, like the zombie teddy bear strap end for that extra creepy feel. It's a 2 inch wide cotton strap, that's light and comfortable and well worth the purchase.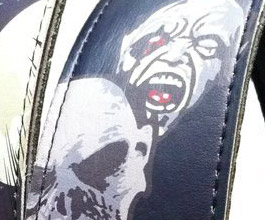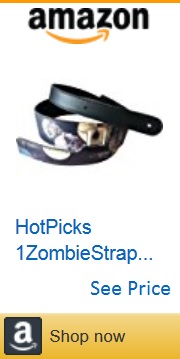 This two-Inch wide Zombie Guitar Strap has an awesome graphic design, and is fully adjustable. It comes from the Hot Picks company who are renown for their range of guitar picks, but also make equally excellent guitar straps.
Another cool guitar strap from Peavey. This one is called, The Walking Dead Rick Grave Digger Leather Guitar Strap. It is on high quality genuine leather, it's very collectible, as well as being a very comfortable strap. You can't go wrong with Peavey.
This Zombie Guitar Strap is fully adjustable, and features machined leather and is downright cool. Yet another in the Peavey series of, The Walking Dead, guitar straps.

This alluring Zombie Guitar Strap, complete with eerie nurse design is by Levy's Leathers and features a nice and creepy design on a 2 inch wide cotton strap. The straps in this series come with a themed custom strap end, in this case a medicine, or should I say poison bottle.
This spooky 2-inch wide Baby Zombie Guitar Strap is yet again another installment from Levy's Leathers. It's just as awesomely creepy as the rest in the series, and it's also cotton for super comfort. A light weight, durable guitar strap, ready to scary the neighbours.
Check out this Guitar Strap – it rocks! For Electric, Acoustic, & Bass Guitars. It's a two-Inch wide nylon strap, which is fully adjustable, with officially licensed artwork, and did I mention, it's kick-ass cool.
This durable Zombie Guitar Strap has a unique strap end, why? Because it's from the Levy's zombie series, so you know it's good, or should I say bad-ass. Get one, you'll be glad you did.
If you're sick of your kids bothering you while you're practicing, then put this strap on your guitar, it's sure to scare them away. But seriously, this is another nice and scary zombie guitar strap from Levy's Leathers. Same durability, comfort, and reliability as the others, and just as frightening.